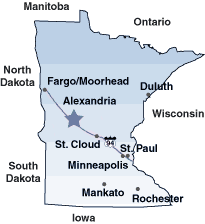 Located midway between the Twin Cities and Fargo-Moorhead, the Douglas Area Trails Association maintains 368 miles of snowmobile trails in west central Minnesota's Hardwood Hills and River Prairie landscapes. With the abundance of lakes throughout Douglas County, the DATA Trails offer a combination of open flatland to heavily wooded, hilly riding opportunities. Snowmobilers often comment about the spectacular views and abundant wildlife they encounter while riding. Every community in Douglas County is connected by trail, so you are never far from food, gas, services, or accommodations. 36 miles of our system is the blacktopped, multi-use Central Lakes Trail which connects us to Fergus Falls to the north or the St. Cloud Area to the south. The Central Lakes Trail provides quick and easy access to trails all across Douglas County. Come to Douglas County a take a ride!An additional "Thank You" to the people/businesses which allowed us to plug in groomers this winter at their locations overnight: Leaf Valley Mercantile, Jack Bitzan, Garfield Lumber, Joe's Gas & Deli, Melby Outpost, DC Runestone Park, Brian Eastlund, Earl Anderson, Jason Enninga, Brothers Market- Miltona, John Wenner, Farm & Industrial Supply
Membership 2023
Support the sport you love by becoming a Member this season! Family membership is $45 per year with $25 going to MNUSA, the state snowmobile trail association. Your membership contribution helps provide our trail insurance coverage, new trail developments, double grooming during the height of the winter season, and helps pay for our annual landowner appreciation dinner. The $45 combined membership is a great value so please support us by joining DATA! You can also obtain your membership at any of our local snowmobile dealers; Ollie's Service, Boomerang Marine & Sports, Evansville Sports & Lawn, DS Powersports, and Country Cat in Sauk Centre.
2023 Membership Letter
Trail update
Dec 7, 2022
Douglas. County received 3-4" of snow today. DATA trails are closed for now. We are packing sloughs (there is limited ice) but hoping to be able to open trails with the next significant snowfall.
Sep 20, 2022
We are busy clearing trails and cutting trees! There are more trees down in Douglas County than we have seen in several years due to the summer storms. We'll be ready for snow though! We have about 70 miles finished so far.
We are hiring
Aug 7, 2022
We are hiring for fall trail work clearing/mowing/prepping our snowmobile trails. Enjoyable outdoor work- trimming, chain sawing, sign installing, ATV work, and grooming after snowfall. Starting pay $16/hour, with option for growth after 30 days. Our hours are 7-4, M-Th, Fridays can be optional if we're on schedule. Vacation and Holidays offered after 30 days to qualified applicants. Email resume to data@gctel.com or call office at
320-834-2033
. Thanks!
Trail update
Mar 17, 2022
DATA Trails are closed for the season. Thanks to all who make our system possible. Thanks to all Landowners for allowing trails through their property.
We ended up with 11 weeks of grooming, and 12 weeks of "trails open for riding". Great season!!